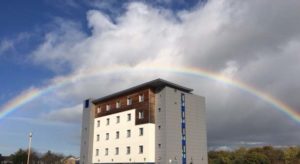 ACMS Boarding is a state-of-the-art purpose built School Care Accommodation building with superb facilities.
All bedrooms are en-suite, with full internet access and climate control. Each bedroom also comes equipped with ample storage, a lockable cabinet and an area for study.
The ground floor is  open-plan design and consists of a large dining room and two common rooms, one of which is often used for relaxing with video games.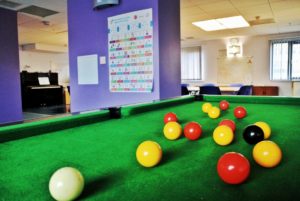 Here's what some of our pupils said about their time at Boarding ...
"When I arrived at boarding last term, everyone was so friendly. I got introduced to everyone at supper and from that instance I've felt part of a family."
"I think it is a great idea to send your child to ACMS"
"Lots of things to do - board games and sport. You should come."
"Here at boarding the staff are always helpful and supportive. I think that all the kids are really nice, it is always fun to be at boarding."
"Boarding at ACMS is a place where you can meet new people, make friends and learn some of the required skills you need to live independently."
"Boarding has been great for me as I have met people I have made lifelong friendships with and improved greatly on my first instrument, the violin."
"When I first came everyone accepted me at boarding, I know that it is a really good place. you will learn quicker and move on faster than with a normal music teacher. You get your own room and privacy."
"I feel that moving to boarding from home has been a smooth transition; that I have greatly appreciated. The facilities are of a high standard and the activities available for sport, etc, are a nice surprise. the people have been very nice and welcoming, making my time at boarding the best it could be."